---
3904 Meridian 1 PBX Telephone
The M3904 Professional phone is the ideal choice for busy executives, managers, and administrators - anyone who needs maximum flexibility in a multi-line phone.

It provides enhancements in several areas including offering the largest display in its class, Personal Directory with Call Log and a variety of user selectable options.

The M3904 also supports a PC utility Cartridge that allows you to create a directory of up to 100 names and then download them to your phone. The M3904 sets a new standard for user empowerment, productivity, and lower cost of ownership. Use with your Nortel PBX system.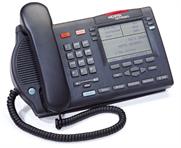 Features & Benefits

* Multi-line.

* 5 Line x 24 Character Display.

* 6 Self labeled, programmable feature keys with shift key (total of 12 with shift).

* 4 Context sensitive feature keys.

* Fixed Feature Keys - Hold, Goodbye, Volume Control, "Smart" Mute and Headset w/ LED, Options, Message, Directory/Log (Includes Redial), Applications, Shift, Hands-free with LED.

* Dual Purpose LED indicator - Message Waiting, Incoming call.

* Navigation Cluster, Quit and Copy.

* Desk or Wall Mount.

* Supports 2 Snap In Cartridge Accessories.

Colors

* Charcoal

* Platinum